A Colourful Chalet Cuckoo Clock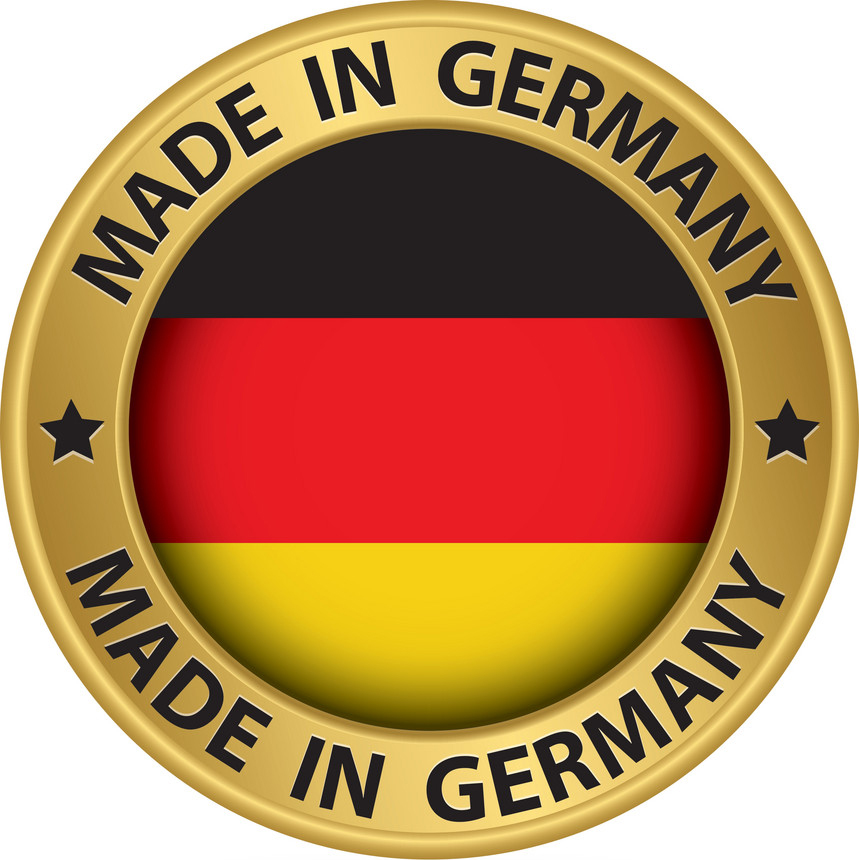 This pleasing 8 Day Mechanical Cuckoo Clock is fine example of a genuine, high quality hand-crafted Black Forest cuckoo clock, produced by clock makers SCHNEIDER from Schonach in the Black Forest Region of Germany.
Measuring 44cm in height*, this beautiful clock portrays a delightful scene in the bavarian countryside, featuring a multi level chalet house with a timber facade and roof. Out the front of the chalet to the right are two men sitting at a table enjoying a beer, next to some barrels stored to the right of the chalet. Meanwhile to the left is another man standing next to a barrel enjoying a beer, whilst his beloved dog stands patiently to the left of him, gazing out upon the delightful landscape surrounding him. This fascinating scene also includes a wooden clock dial in the centre of the chalet, and hand painted details including green window shutters and flowers in the windowsill. Directly below the cuckoo bird are colourful dancers situated on a balcony that extends out slightly above the clock dial. One striking feature of this particular clock is the feature of 4 Edelweiss flowers represented on the chalet. The white, star-shaped Edelweiss flower is unique to the Alps - mainly Alpine Germany, Austria and Switzerland. Its name means "Noble White" and represents strength because it survives the harshest winters at very high altitudes. It also represents a symbol for bravery, courage and love. Rounding out this unique clock is a timber pendulum that hangs below the clock itself, along with the weights; whilst a bell tower sits high above the chalet itself.
Chalet style cuckoo clocks are the most famous and common type of cuckoo clock, and are often featured in the shape of alpine houses. They usually feature carvings that represent life in the mountain regions of Europe (mainly around Southern Germany, The Black Forest, Switzerland and Austria). The in-built cuckoo of this clock calls the time each hour and once at half past through a door that opens, with an automatic night off function between the hours of 8:30pm till 8am to allow you a sound sleep. There are two melodies that alternate with this clock after the cuckoo calls- including Edelweiss & Happy Wanderer. This particular clock is an 8 day mechanism, and therefore needs to be wound once a week. Chalet style cuckoo clocks can range from simple arrangements of carved features to very detailed scenes with many moving parts (known as automaton). The particular automaton for this clock include the beer drinkers to the right who raise their glasses when the cuckoo calls, and the dancers on the balcony who twirl when the music plays on the full hour.
This beautifully designed clock by SCHNEIDER is a charming timepiece, suitable for those looking for a quality traditional cuckoo clock using carving methods that have been practised for hundreds of years.
Benefits of a Mechanical Cuckoo Clock
Black Forest mechanical cuckoo clocks are weight driven and are available in two different movements:
1 Day Movement - you wind the clock by pulling the chain and winding the weights once a day

8 Day Movement - you wind the clock by pulling the chain and winding the weights once a week
Each mechanical cuckoo clock will have either two or three weights; two weights for cuckoo only and three weights for cuckoo and music. One weight runs the clock movement and hands that show the time and the second weight drives the cuckoo calling mechanism. The cuckoo sound is produced using bellows that push air through two whistles creating the 'cook' and 'coo' sounds respectively. If you choose to also have music with your mechanical cuckoo clock, the third weight drives a traditional mechanical music box movement with a pinned cylinder that plucks notes on a 'comb' to produce a melody.
Quality Black Forest Craftsmanship
This genuine cuckoo clock is hand crafted in the Black Forest region of Germany by clock makers Anton Schneider.

Anton Schneider began producing cuckoo clocks from his farmhouse in Schonach in the Black Forest Region of Germany in 1848 and today the company is into the 6th generation of clock makers

Today, the Anton Schneider clock factory is among the most modern and one of the largest cuckoo clock factories in all of the Black Forest

Anton Schneider offers customers worldwide a true guarantee of a product of high quality, craftsmanship and precision
Why Shop at the Clock Shop?
Our small family run business has been standing in the same location since 1993, providing Australia with the number one option for consistent quality timepieces. Don't believe us? Check out our company reviews!
If you're looking to purchase an authentic German cuckoo clock in Australia, then we offer a large range of quality timepieces that add a German inspired atmosphere to your home.
When you purchase a cuckoo clock from the Clock Shop you will be guaranteed a product that is authentic in origin, sourced directly from Germany, and crafted of the highest quality. These beautiful and unique hand carved clocks date back to the early 18th century and are still manufactured in the Black Forest region of Germany today.
A Guaranteed Product of Authenticity
The Clock Shop is a member of the "VDS-Verein die Schwarzwalduhr" (= Black Forest clock association), and a certificate of authenticity is included for all clocks with a mechanical movement made in the Black Forest. In order to provide customers with this certificate of authenticity, the product must be produced authentically and exclusively from the Black Forest, and must be working purely mechanically with all of its essential working parts to have also been produced in the Black Forest as well. SCHNEIDER mechanical cuckoo clocks all guarantee the hallmarks of quality, precision and authenticity and as such, come with this certificate.
When you purchase a mechanical cuckoo clock from the Clock Shop we will guarantee:
2 year warranty on all cuckoo clock purchases

A VDS Certificate of authenticity

Top quality customer service with fast response times

Fast and secure delivery to anywhere in Australia

A

100% happiness guarantee policy

with easy returns
Key Features:
Genuine hand-crafted 8 day mechanical chalet cuckoo clock by SCHNEIDER

Traditional Bavarian chalet scene with a bell tower above the chalet

Highly detailed chalet facade & roof

Hand painted features including window shutters and green pine trees

Features beer drinkers outside the chalet

Also features a dog, some pine trees and some beer barrels outside the chalet

Wooden clock dial in centre of chalet facade

Timber pendulum

Cuckoo calls the time each hour and half hour through a door that opens

Night shut off mode

Colourful dancers on a balcony above the clock dial

Aternates between two tunes - Edelweiss & Happy Wanderer

Beer drinkers raise their glasses when the cuckoo calls, whilst d

ancers spin when the music plays on the full hour

Features 4 Edelweiss flowers depicted on and below the chalet

Measures 44cm in height*

Needs to be wound once a week

Hand crafted in the Black Forest region of Germany

2 year warranty

Fast delivery Australia wide

Free delivery on orders over $400

Happiness guaranteed
Disclaimer:
Whilst we do our best to accurately capture all products to best represent their natural appearance, the colour and finish of this product may vary slightly from the images on our website.
*The measurements of the clock do not include the height of the weights or pendulum.
| | |
| --- | --- |
| SKU | 20068608 |
| Model # | 8TMT 3160/9 |
| Brand | Anton Schneider |
| Height | 44.0cm |
| Width | 38.0cm |
| Type | Cuckoo Clocks |
| Style | Chalet |
| Movement | Mechanical 8 Day Chain Wind |
| Clock Sound | Cuckoo & Music |
| Music | Mechanical Music |
| Theme | People & Culture |
| Automaton (Moving Parts) | Dancers |
| Automaton (Moving Parts) | Beer Drinker |
| Material | Wood |
| Numerals | Roman Numerals |
| Pendulum | Yes |
---
Standard Shipping
- $0.00
Take advantage of our great shipping rates including FREE delivery for all orders over $400. Please note, while PO box deliveries are possible, we don't recommend this for large and/or fragile items. We use the most suitable carrier based on the item/s ordered and the delivery location.
---
Express Shipping - Quoted (NOT FREE Read notes*)
- $0.00
EXPRESS SHIPPING IS NOT FREE: Express Shipping is quoted once the order has been submitted. You can choose to pay for the product/s now and pay the shipping cost after the quote has been issued. Alternatively, please use the Shipping Quote payment option at checkout to defer any payment until the shipping quote has been received.
---
Free pick-up in store
- $0.00
Free pick-up from Clock Shop, 194 Main Street, Montville 4560. Mon - Sat 9:30am - 5:00pm, Sun 12:30pm - 5:00pm
Shipping Information
Take advantage of our great shipping rates that includes FREE delivery for all orders over $400*. (*excluding Grandfather Clocks - specialised carriers and insurance is required for all Grandfather Clock deliveries). Read More
Returns
All purchases from Clock Shop also come with our Happiness Guarantee policy - We will happily exchange or refund any product that you are not 100% happy with. To request an exchange or refund, simply contact us within 7 days from the date your item/s arrived. All of our products are quality checked before they are shipped out. If you receive a faulty item from us upon delivery, please contact us immediately at support@clockshop.com.au
---
Others Also Bought
---
More From This Category