The Simple Guide to Choosing a Wall Clock
Author: Kate Ison Date Posted:3 February 2021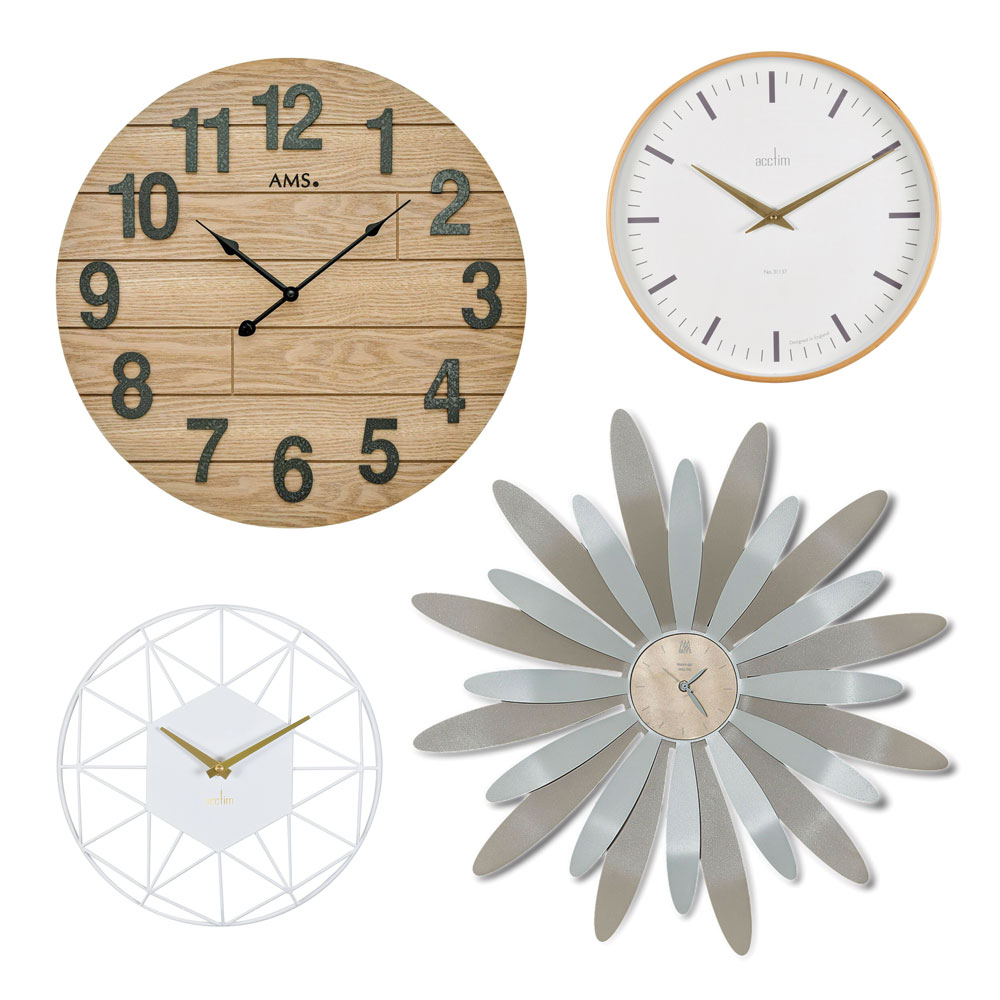 Here at Clock Shop it is our passion to help you find the perfect clock for your home. Our selection covers styles from modern to rustic and everything in between. Changing up your wall clock is an easy and affordable way to refresh a room or can be the final touch to complete one. Choosing the right clock is simple when you know what to consider - and we're here to guide you with these four tips.
1. THE ROOM
This first question is which room are you looking to place it in? Is the existing furniture's style mid-century modern, industrial, Scandinavian, bohemian, rustic, or perhaps nautical? One of our popular clocks that is versatile across multiple styles is the Bonde XL - Bent Wood Wall Clock 41cm by Acctim, as it has light neutral tones and materials plus isn't too large.
2. COLOUR
Trending colours in interior design right now are the earthy tones of rust, ochre and olive green and deep jewel colours of navy blue and forest green. For those favouring earthy tones in their homes we recommend clocks with silver finishings like our Chestnut/White Cassiopea Modern Wall Clock by Arti Mestieri. If your home features more jewel tones inspired by the roaring '20s you can pair it with a neutral toned clock like our Chloe White Geometric Wall Clock with Mint Green Hands by Acctim. You want to make sure the colours in the clock aren't competing for attention with its bold surroundings; a clock with a white dial allows the eye to rest among such strong hues.
3. SIZE / SPACE
Choosing a clock that is too large can make a room feel crowded and cluttered. While on the other hand a clock that's too small can look out of place. If your room is open-plan it's beneficial to choose a clock large enough to be read from a distance. You'll likely be checking the time from different areas of the space so a practical clock is essential. Have a large empty wall waiting to be filled? Two great options that feel more rustic are our Oak Fence Panel Round Wall Clock and the Green & Brown Wood Grains Battery Wall Clock Square both by AMS. Adorning a clock on a plain feature wall in your home is a great way to make a statement.
4. SOUND
The final consideration to give is whether you want the clock to chime or be silent? Be aware of which room you are placing it in or near, you don't want to hang a chiming clock too close to a bedroom! They're great for common living areas like a dining or lounge room, take a look at our Cherry Wall Clock with Moon Dial and Curved Glass with Triple Chime by AMS or for something quiet see this Brown Natural Stone and Aluminium Modern Pendulum Wall Clock also by AMS.
By following these tips you'll find the perfect clock for your home in no time. Be sure to let us know how you're styling your new clock! We love to see your inspiration and creations.
---
Leave a comment