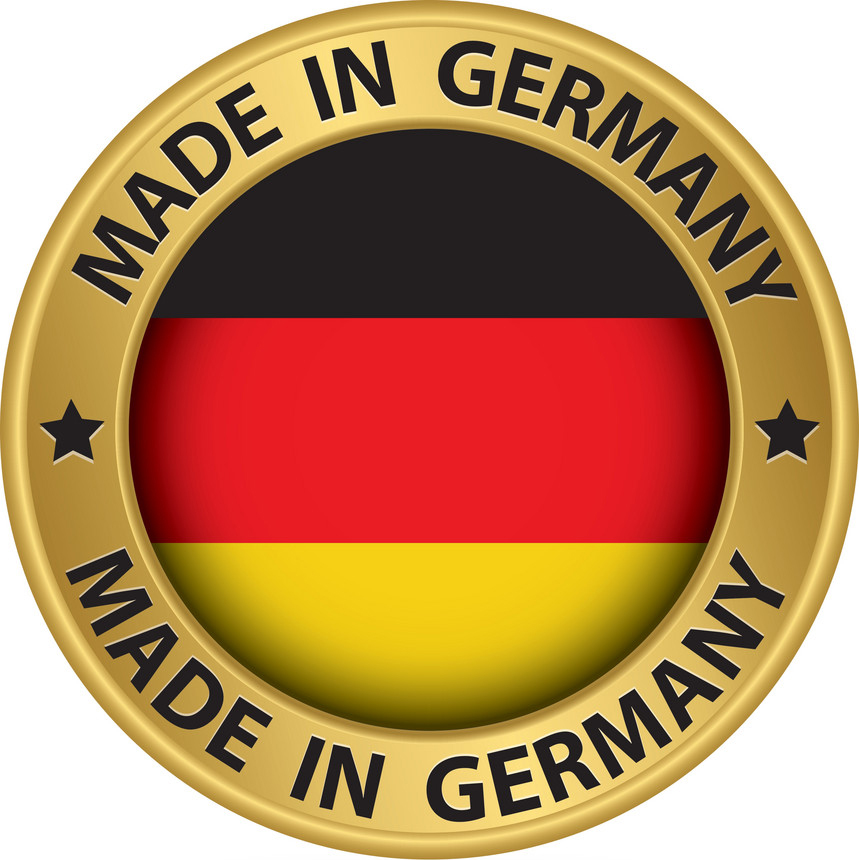 Contemporary Cherry Wood Grandfather Clock With Triple Chime By AMS
A traditional aesthetic comes easily to this Contemporary Cherry Wood Grandfather Clock With Triple Chime By AMS, which represents a fine example of a genuine, high quality hand-crafted Black Forest grandfather clock built by skilled craftsmen.
This solid timber, triple chime Grandfather Clock is a high quality contemporary German floor clock from AMS - Andreas Mayer & Sons that measures 202cm in height, 56cm in width and 33cm in depth. The rich cherry stained case features cleverly inlaid burl details top and bottom that compliments its floating round white dial with roman numerals and inset moon dial which displays the phases of the moon as it progresses through the lunar month (29.5 days).
The high quality Kieninger 8-day cable wound movement with triple chimes fitted in this clock is a quality German movement, ensuring that both the case and the movement are 100% German made. The three chimes available include the Westminster chime (also known as the "Big Ben" chime or the "Westminster Quarters"), the Whittington Chime, and the St. Michael's chimes. The number of chime sets matches the number of quarter hours that have passed, therefore at a quarter past the hour you would hear a quarter of the full chime, whilst at half past you would hear half the chime, and so on. On the hour you will hear the full chime followed by a strike for the number of hours. So at 2 o'clock for example, you will hear the full chime followed by 2 strikes.
The solid timber framed door with full visual glass provides an unobstructed view of the impressive dial, cable pulleys, polished brass weights and pendulum. You will also be able to see just beyond the dial that this is a mechanical clock with visible chime rods which require winding every week. To wind the clock you simply insert a crank key into the holes in the dial and wind the cable until the weights return to the base of the dial. In addition to these features, the clock also has manual and automatic night-time shut-off which is enabled by lifting and pulling a lever.
This beautifully designed clock by AMS represents a charming timepiece, suitable for those looking for a quality traditional grandfather clock that has been handcrafted using carving methods that have been practised for hundreds of years.
Hand Crafted in the Black Forest, Germany
AMS are a German family run business who specialise in elegant and modern clocks.
AMS Black Forest clocks are reliable, precise, aesthetically pleasing and are made from the finest high-quality materials.
When you buy an AMS grandfather clock you are buying a guaranteed top quality timepiece that is sure to last a lifetime.
When you purchase a grandfather clock from the Clock Shop we will guarantee:
2 year warranty on all grandfather clock purchases

Top quality customer service with fast response times

Fast and secure delivery to anywhere in Australia

A

100% happiness guarantee policy

with easy returns
Key Features:
Genuine hand-crafted grandfather clock by AMS

Measures 202cm x 56cm x 33cm

Hand crafted in the Black Forest region of Germany

Kieninger 8 day cable movement

Triple chime movement- Chimes - Westminster, Whittington, St Michael's

Manual chime - on / off option

Automatic night time shut off

Moon dial shows the phase of the moon throughout the month

Beautiful stained cabinetry by world class clock manufacturers

Fast and safe delivery Australia wide

Happiness guaranteed
Shipping
All Grandfather Clocks require specialised carriers and shipping is quoted based on the destination. All consignments are insured for complete customer satisfaction. Shipping costs generally range from $150 to $500.
Warranty
This clock is backed by a minimum 2 year manufacturer's warranty that is serviceable through the Clock Shop. All service and warranty work is handled in-house, through our shop in Montville, Australia. We stand behind our products and are just a phone call or an email away! For international customers outside of Australia there is additional access to world-wide service stations.
Disclaimer:
Whilst we do our best to accurately capture all products to best represent their natural appearance, the colour and finish of this product may vary slightly from the images on our website.
Blog
Read more about grandfather clocks on our blog here!
| | |
| --- | --- |
| SKU | 20046927 |
| Model # | S2240/9 |
| Brand | AMS |
| Height | 202.0cm |
| Width | 56.0cm |
| Depth | 33.0cm |
| Type | Grandfather Clocks |
| Movement Type | Mechanical 8 Day Cable Wind |
| Clock Sound | Triple Chime |
| Colour | Cherry |
| Material | Solid Timber |
| Pendulum | Yes |
Calculate Shipping
---
Free pick-up in store
- $0.00
Free pick-up from Clock Shop, 194 Main Street, Montville 4560. Mon - Sat 10am - 4:30pm, Sun 1pm - 4:30pm
---
Others Also Bought
---
More From This Category