About Us


The Clock Shop (Clockshop.com.au) is an Australian owned and operated small run business based in the charming mountain town of Montville, located on the Sunshine Coast Hinterland of Queensland, Australia.
Perhaps the most iconic building in all of Montville, the Clock Shop is a German chalet inspired stone and shingle building that has been welcoming customers through its doors since the business was established in 1993. Today, our building has become a 'must see' for visitors near and far, and is known and loved by many generations all over Australia. Once customers step inside our unique building, they find their senses are overwhelmed with the rich smell of timber, the sound of hundreds of modern and traditional ticking clocks adorning the interior timber walls, beautiful chimes and melodies going off from our various ranges of cuckoo clocks and grandfather clocks, the beautiful sight of shelves and cabinets stocked full of traditional German items, various beer steins, christmas items, music boxes, and many brands of watches, whilst traditional German music plays in the background. An experience we are often told is synonymous with stepping into another world.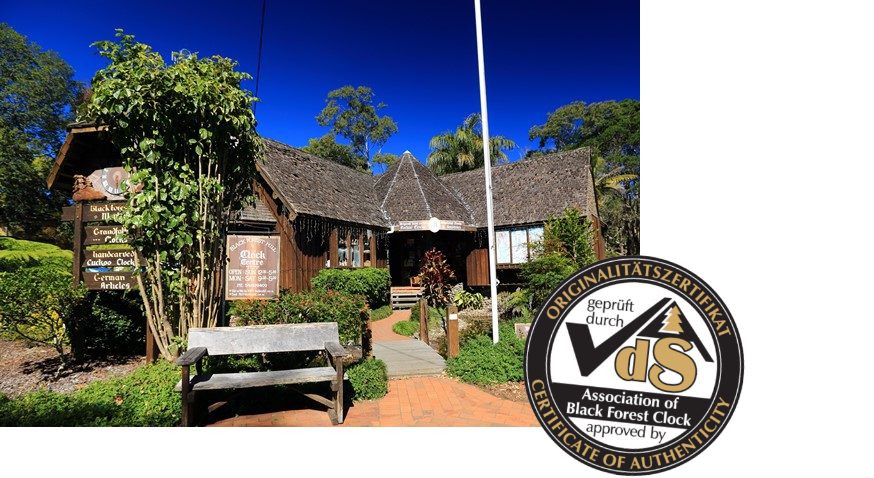 The Faces of the Clock Shop
The foundations for the Clock Shop were set in 1993 by husband and wife duo Phil and Fran Hoffman who opened the business as a specialist cuckoo clock centre. Today, Phil and Frans' son Daniel manages the business along with his wife Holly, who are proud to announce that since it opened, the Clock Shop has welcomed over 3 million physical visitors, and continues to grow as we expand our product range, source new suppliers, and promote our growing presence in the online world, through our ever growing website https://www.clockshop.com.au, and via our various social media channels including Facebook, Instagram and Youtube, offering further product specifications, DIY tips and tricks, demonstrations and video calls for the most discerning shoppers. As a small family run business, we pride ourselves on our exceptional customer service, striving to create both memorable and unique experiences for our valued customers both in store and online.
We are proud of our small team of friendly staff who are more than happy to assist you with your purchase and any questions you may have, whether it be in store or online. Our aim looking forward into the future is to continue serving our valued customers to the highest standard and always ensuring they leave with two things - An amazing experience and a smile on your dial. No matter what it is you are searching for, here at the Clock Shop we are confident you will find something that is truly unique, special, and will stand the test of time.
Where Do We Source Our Product Range?
We import the majority of our products from a number of regions in Germany including the Black Forest, with a handful of products also being sourced from a number of European countries, the UK and Australia. Every year, some of our team travel directly to Germany to meet with our chosen manufacturers and trusted suppliers, discussing new models and products with master carvers from the Black Forest, ensuring a range of products to suit a range of budgets and decor. Over the last 30 years we are proud to have built long lasting relationships with our German suppliers, who provide us with hand made clocks that carry the hallmarks of quality and precision, using traditional carving methods that have existed for hundreds of years. We hand select our products individually to guarantee you products of the highest quality and standard.
Our Products are Authentic!
We are an authorized VdS (Verein – die Schwarzwalduhr) Black Forest Clock Association ( http://www.black-forest.org/) service and repair shop with an onsite clockmaker to handle any repairs. The members of the "VDS" are manufacturers, dealers and suppliers who offer a certificate of authenticity for all clocks with a mechanical movement made in the Black Forest. In order to provide customers with this certificate of authenticity, the product must be produced authentically and exclusively from the Black Forest, and must be working purely mechanically with all of its essential working parts to have also been produced in the Black Forest as well.
Did You Know?
In March 2021, the Clock Shop was featured on the TV Show 'The Amazing Race', which aired on Channel 10.

The physical Clock Shop building was originally a garden centre and nursery before it became the Clock Shop

The business has remained within the same family since 1993

Our entire product range with over 4000 products is available both in store and online

Every month we give away a $100 AUD gift voucher to one lucky person who signs up to our email newsletter. If you are based in Australia, why not sign up today!
Take A Closer Look At The Clock Shop