Clock Trends for 2022
Author: Clock Shop Date Posted:6 January 2022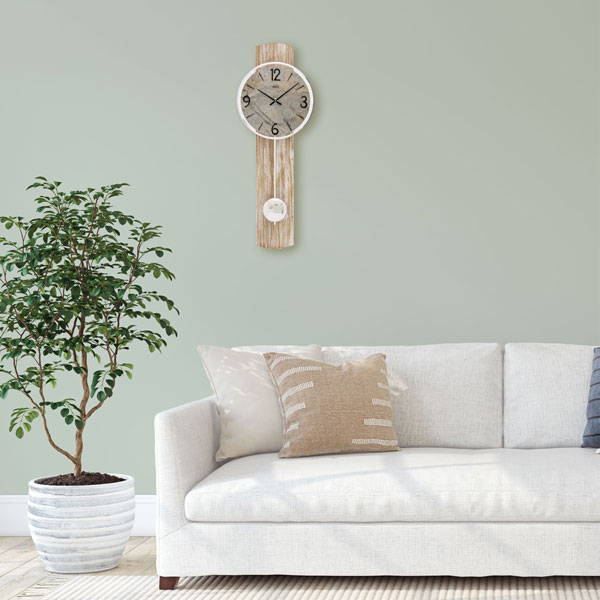 Since the start of 2020, life has changed significantly in a way nobody could have predicted. An ongoing global pandemic has shifted our way of life from a globally focused society to our smaller indoor home spaces & smaller networks around us. As we have all started to spend a large amount of time at home, design trends have rapidly shifted. Gone are the days of sleek, pristine modern white and glass inspired homes, as well as highly patterned and colourful spaces filled with wallpapers and mosaic tiles. Instead, we have started to crave comfort and more natural inspired spaces where we feel grounded and cosy- in a world filled with uncertainty, this focus has become more important than ever.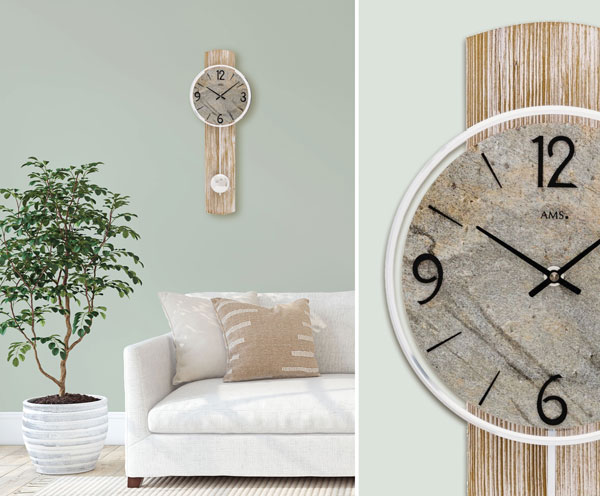 Natural Styles Are In.
Natural materials like stone and wood are becoming very popular for home decor and furnishings, with products such as this 60cm Oak Pendulum Wall Clock With Grey Stone Dial By AMS fitting in perfectly with this trend. In addition, an emerging interest towards wood-laid patterns such as herringbone wood floors and ribbed wood detailing to walls and kitchen cupboards match perfectly with light toned & beech timber decor. Clocks such as this 69cm Beech & Silver Pendulum Wall Clock By AMS, this 40cm Stone Inlay & Beech Wall Clock With Glass Dial By AMS, and this 54cm Beech & Silver Oblong Pendulum Wall Clock By AMS are perfectly matched for this new style. By combining these natural earthy tones with the current trending rich shades of green (in particular olive, emerald, eucalyptus, jade and teal), this invokes the sense of warmth and coziness as we focus on bringing nature back into our home spaces. Natural Wood Wall Clocks fit perfectly with the natural coloured aesthetic for home spaces in 2022. To compliment this overall style, indoor plants add a hint of green to truly create a comfortable cosy environment you won't want to leave.


Returning To Our Roots With Antique Styles.
One additional design trend which is surging in popularity for 2022 is the inclusion of handmade finishes for home decor. This interest in the handmade perfectly compliments the notion of returning to our roots, as a large portion of time spent at home during the pandemic has been focused on DIY home based hobbies such as planting and gardening, artistic projects, building creations, home cooking and baking, all of which are skilled work with our hands. This creative element in our lives directly links to the next trend for 2022 which is the return to old-style antique goods and heirloom one-of-a-kind items. Whilst mass retailers are struggling with global supply chain issues and a huge backlog of orders, antiques businesses are booming. More and more people are unleashing their inner creativity and searching for one-of-a-kind oddities and heirloom items that add a true vintage sense of character and timeless appeal to the home space. As we return to our roots and focus our time towards our home spaces and being present with our families, nostalgic heirloom items such as grandfather clocks and table clocks have become highly sought after. Many people remember the joy as a young child listening to the chimes of grandfather clocks playing in their family homes, and this has now evolved to the same joy across future generations. Styles such as a traditional grandfather clock are perfect for adding a sense of old world charm and nostalgia to the home space in 2022, however if your home space or budget is too small for a grandfather clock, a smaller traditional style table clock or tambour shaped mantel clock will also match perfectly with the new style trend. In the theme of comfort and cosiness, rounded arches and shapes support our need for softer lines and comforting designs, and have become very popular over bold shapes and sharp edges. In fact, many styles of grandfather clock and table clocks perfectly compliment the style of rounded arches and bendy lines.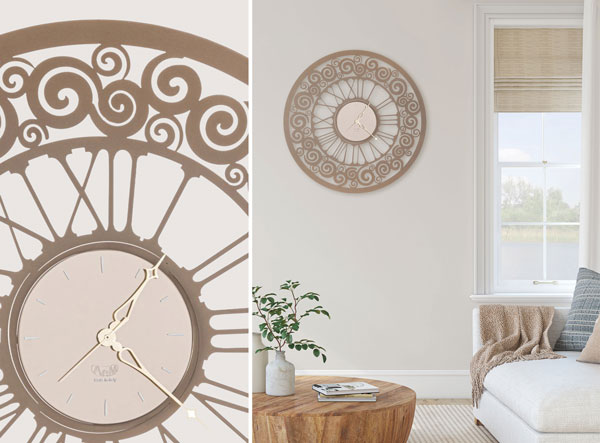 Oversized Statement Items Are In.
Finally, one emerging trend for 2022 is that of oversized décor furnishings, which are definitely rising in popularity- particularly timepieces that become the main focus of a room. Large clocks such as our range of 80cm Moving Gear Wall Clocks by Dutch brand Countryfield, or this unique and artistic 70cm Bronze Rococo Modern Wall Clock By ARTI E MESTIERI help to define the personality of a room with an artistic flair, whilst also adding an overall wow factor to the 2022 space.
Compliment The Latest Trends
One thing is for sure, the last few years have changed us all in one way or another. By turning our focus inwards to our inner circles and home spaces we have also started to gravitate towards natural inspired spaces, and the style trend for 2022 spaces perfectly reflects this. No matter what your home space looks like, whether you are all about the natural earth based tones, or a more modern artistic space, Clock Shop offers a huge selection of timepieces that are sure to find a home in your chosen space, no matter the style or budget. We support you in 2022.
---
Leave a comment