Grandfather Clock Buying Guide
Author: Clock Shop Date Posted:1 September 2022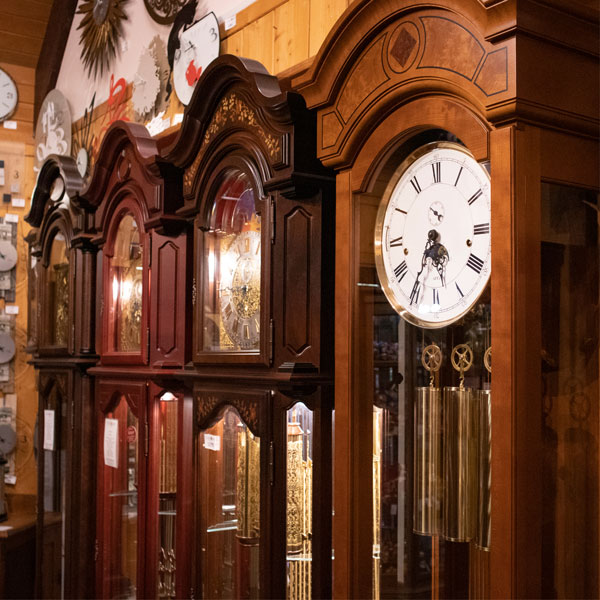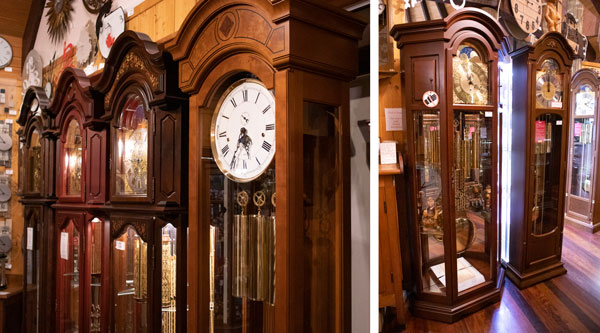 Originally referred to as longcase clocks, grandfather clocks have existed for over 400 years. Tall and free standing on average between 1.8 and 2.4 metres tall, these weight driven pendulum clocks are a true statement piece, a heirloom item that can be passed down through generations and loved just the same over hundreds of years. Whether it be hearing the quarterly hour Westminster chime that would play again and again, day and night; or simply watching a grandparent set the time on one, grandfather clocks invoke a special feeling of nostalgia in many people.
The process of selecting a grandfather clock can be a daunting process. Here at Clock Shop, we offer a range of grandfather clocks for all budgets, ranging from the more affordable models with simple details, through to our exquisite range of fully customisable models. No matter the style you choose from Clock Shop, your grandfather clock will become an heirloom that can be handed down the generations in your family, provided it is well maintained and serviced over the years.
When buying a grandfather clock, there are a lot of different components to consider. We will outline some of the main components and features below:
Part 1. The Cabinet
1.a Cabinet Composition
The cabinet of most antique grandfather clocks is generally made from all solid timber, however over time the timber moves and sometimes splits or bows the case. Most grandfather clocks produced today are made from solid timber with a composite timber case using laminate & high quality veneer. Many people believe this to be cheaper than using all solid timber, however, by using a mixed composition, the cabinet will have more structural stability and be more durable over the long term.
1.b Cabinet Colours/Finish
Grandfather clocks from Clock Shop are available in a range of european timbers including Oak, African Walnut and European Alder. Different stains are used to achieve a variety of shades of timber colours including mahogany, oak, and paint finishes such as sleek black and french provincial white, however the most common finish is walnut. You can order specifically to ensure the colour of your new grandfather clock will suit the aesthetics of your chosen space. Alternatively, make the clock a standout feature by choosing a finish that is contrasting to the surrounding furniture.
1c. Cabinet style
Grandfather clocks come in a variety of styles, with the most popular style being the traditional style with an arched top. In the more modern contemporary lines, a rounded domed top or a sleek rectangular design are common. Consider if you would prefer a traditional grandfather clock that keeps in style with a passage of time that is long since passed; or would you prefer a more contemporary aesthetic to suit the growing modern trend of upscale ambience in modern spaces, offices and workplaces?
1.d Additional Cabinet Features
There are a number of additional features to consider when purchasing a grandfather clock. In some models, the cabinet also features visual decorative wooden inlay. Perhaps you are considering a grandfather clock that offers high visibility into the inner movements. If this is the case, look for a model that features front and side glass panels. Some models only offer a visual front glass panel, whilst other models omit the glass panel altogether. More modern longcase clocks usually offer a full visual glass panel at the front to allow full visibility into the inner movements.
If you were wanting your grandfather clock to be a statement piece, then look for additional decorative features to the case, including added embellishments, gold collars, fluted pillars, internal shelves, hidden compartments and internal lighting. We will outline these in more detail below. If you would rather opt for a true traditionally styled grandfather clock then you might decide to omit these features altogether.
Part 2. The Movement
2.a Chiming & Striking Options
Traditionally designed as a chiming clock, grandfather clocks were designed to chime at every quarter hour, and strike on the full hour, day and night. The original and most widely recognised strike tune is the famous Westminster Quarters chime (aka the Big Ben chime). Other models instead feature a triple chime function that plays the Westminster chime, along with St Michael's and Whittingtons chimes, with the option to silence the clock altogether. Some models also offer Ave Maria as an optional melody. Decide on what sound preferences you wish for your chosen grandfather clock.
All of the grandfather clocks stocked by Clock Shop are mechanical and require winding- this powers the pendulum and the chime/strike. The sound is produced by hammers which hit the gongs or chime rods in a particular order or sequence. The chime rods are mounted in the back of the case behind the pendulum leader and crutch.
In some cases, the chime and the strike are played on the same set of chime rods, whilst larger and more detailed grandfather clock models feature two banks of chime rods, one for the chimes and one for the strike, each producing a deeper and richer sound. It is important to note that these sounds are unique to each model of grandfather clock, so we strongly recommend listening to the tone of the chiming and striking functions before making a selection. An alternative to the common chime rods is when the melody is played on tubular bells. In this higher end range of grandfather clocks, long brass tubes are suspended at the back of the case, a distinctive sound that is resemblant to church bells.
Decide which type of melody you want to listen to in your chosen space, or whether you would prefer to hear a selection of melodies instead. Ensure you have listened to the chime of the clock before committing to a purchase as you want to be absolutely sure it suits your space perfectly.
2b. Winding The Clock
Grandfather clocks were originally designed with two varieties of wind time, including an 8 day or a 30 hour movement, however today most grandfather clocks operate on an 8 day mechanism. Keep in mind that some of the precision floor clocks only need to be wound once a month.
Consider how you want to wind the movement in your clock. One option is to pull a chain, whilst the other option is to use a crank key in the dial that winds the weights suspended on a cable. The more modern contemporary longcase clocks are usually wound using a crank key, thus ensuring you won't touch the chains at all. By the end of the week the weights will travel down the full length of the case, requiring winding to the top of the case to start a new week. Some of the weights on offer are patterned or etched, whilst others are polished brass. In some of the higher end models, the weights will also feature timber caps as an extra decorative feature.
3. Automatic Night Off Function
Many grandfather clocks include an automatic night off function that will stop the clock chiming when at a predetermined time, allowing you an uninterrupted sleep before recommencing automatically again the next day. If you are a light sleeper this would be an important feature to have. Generally the clocks are set to chime the last chime at 10:00pm and resume at 7:15am however there are some slight variations to this time between clockmakers.
4. Dial
In the traditionally styled grandfather clock, it is very common for the dial to be made of brass or gold with machine cut numerals, as opposed to the contemporary designs which can feature a visually stunning round white or black dial. The majority of grandfather clocks feature machine cut brass numerals on the dial, or a screen printed chapter ring. In some cases, the dial will be a skeleton dial, to offer a true look into the inner workings of the dial itself. Hand painted dials provide a unique and subtle addition of colour to the traditionally polished finish of the dial.
5. Moon Dial
In horology or clockmaking, a complication is any feature of a mechanical timepiece beyond the display of hours, minutes and seconds. One common complication in a number of grandfather clocks is the Moon dial. This dial shows the phases of the Moon as it progresses through a full lunar month of 29.5 days. In most cases the moon dial is visible above the main clock dial. Not all models offer a moon dial - consider if it would make an important addition in your space or whether you prefer a simple dial. Note that the constellations, if shown on the moon dial, are generally those seen in the northern hemisphere as this is where the dials are manufactured.
6. Pendulum
The pendulum is an important part of the clock as this is how you regulate your clock, or adjust it to keep time. The ticking of the pendulum left and right is seen by many as a gentle and relaxing addition to the household and many grandfather clocks feature extra details to embellish the look and feel of the clock. A beautiful lyre pendulum which is designed in the shape of a lyrebird tail is a common embellishment and some pendulum discs are etched or have patterns on them too, whilst other models feature inset timber or are plain polished brass.
7. Customisable Features
Grandfather clocks are a true statement piece, and come in a variety of different styles and features. Whilst many of the more affordable range feature specifics that are outlined above, there are more customisable features available in some of the higher end grandfather clocks. In these models, generally you can order from a selection of timbers, stains and features that are otherwise not available in the standard models, including an internal mirror and lights, along with internal display shelves for your precious keepsakes.
These luxury models can also include another dial complication - a calendar that displays the days of the month. In addition to the dial selection, you can choose from a range of etched weights & pendulums, and timber features that are displayed on the top and bottom of the weights. Some models also feature decorative inlay and artwork on the dial, as well as dancers that rotate when the chime plays. Additional features that are on offer include patterned and bevelled glass, a drawer in the base of the clock, and in some cases, a secret compartment below the drawer itself to store your most precious documents.
8. Brands
For a fine selection of high quality grandfather clocks, look no further than Clock Shop. On offer is a variety of both timeless and modern German made grandfather clocks, from a handful of carefully selected companies who produce products renowned for their high quality craftsmanship.
AMS (Andreas Mayer & Sons)

- a 6th generation family run company founded in the Black Forest region of Germany in 1841, offering precise and reliable clocks to suit the ever changing demand of modern society. Kieninger movements are used in all AMS grandfather clocks.
Hermle (Hermle Clocks)

- a third generation family owned and operated company founded in 1922 in the Swabian Alb region in Germany with a focus on precision. Hermle use their own range of mechanical movements in their grandfather clocks.
Schneider Gehäuse

- a fourth generation German family of master cabinet makers in business since 1928, providing extensive and decades long experience and products of the highest quality, powered by tradition and trust. Schneider uses Kieninger movements in their grandfather clocks, and produces the higher end models on offer.




Thomas Eyering

- The Eyring Wood Carving Company (Holzschnitzerei Eyring) can look back on 4 generations of wood carving. Erhard Eyring started the tradition of wood carving in an old farmhouse with his son Isidor Eyring, and eventually grandson Gerold Eyring who took over the family business. Gerold Eyring extended the product range to include hand-carved Schlotfeger as lucky charms, farmers couples, dwarf lamps as well as larger lamps with hexagon and wild motifs. Later came carved landscape tables, a range of wood carvings such as Nachwachter, Madonnas, Nativity figures, Rhön masks and much more, as well as the production of grandfather clocks with carved ornaments added in 1989. The grandfather clocks also feature Kieninger movements.
---
Leave a comment