The Ultimate Cuckoo Clock Buying Guide
Author: Clock Shop Date Posted:2 September 2021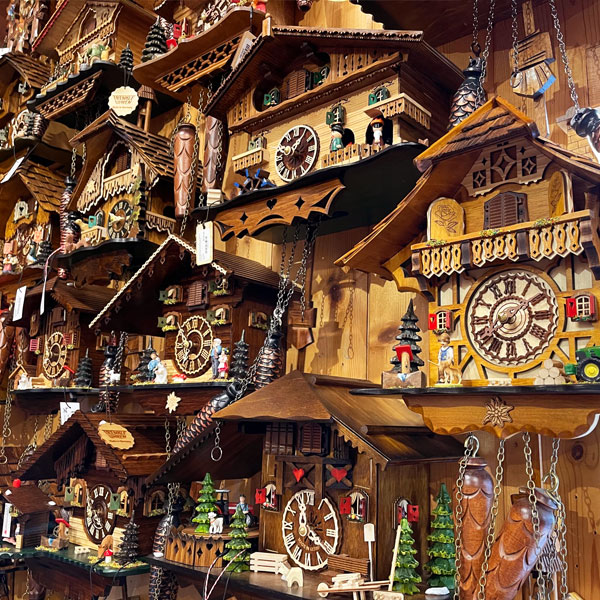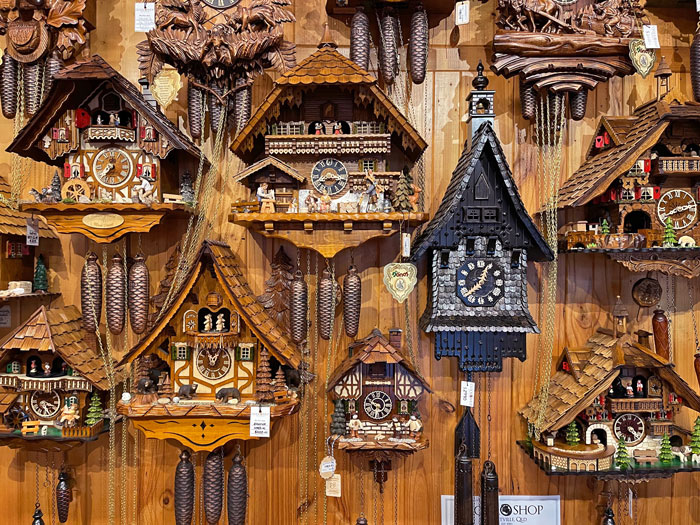 The cuckoo clock is a true cultural icon of Germany. These impressive timepieces are thought to have originated from the Black Forest in Germany in the mid 1700's, with the original design coined as early as the 1600's. Today, traditional cuckoo clocks are still crafted by a number of different companies located in the Black Forest, some of which are now into the 6th generation of clockmakers, in buildings which have been creating cuckoo clocks for hundreds of years.
If you have ever visited our physical store, you would have been greeted by walls and walls of hundreds of cuckoo clocks of all different types- different colours, shapes and sizes in a range of different designs. Or perhaps you browsed our cuckoo clock range on our website, and were confronted by over 350 different options! The task of buying, and learning about cuckoo clocks can seem quite daunting at first, however rest assured the whole process can be broken down into a few simple steps that is easy to follow. So where to start?
Cuckoo clocks come in two main types - mechanical or battery operated. What is the difference between the two?
Let's Start With Mechanical Cuckoo Clocks
When you purchase a mechanical cuckoo clock from the Clock Shop, you will be guaranteed a product that is authentic in origin, sourced directly from Germany, and crafted of the highest quality. These beautiful and unique hand carved clocks date back to the early 18th century and are still manufactured in the Black Forest region of Germany today.
1 Day Or 8 Day Movement
Mechanical cuckoo clocks are weight driven and are available in either a 1 day movement, or an 8 day movement. All this simply refers to is how often you need to wind the weights - a process which is done by simply pulling the chain next to the weight to move it back to its starting position. The name speaks for itself- 1 day movements need to be wound once every 24 hours, whilst 8 day movements must be done once every week. It is easy to distinguish between the two types- Cuckoo clocks with a 1 day movement will have smaller, thinner weights; whereas an 8 day clock will have larger, thicker weights.
Sound Options
Mechanical cuckoo clocks can be silenced with a manual on/off lever on the side, with some models also featuring an automatic night off function. This means that you can turn the cuckoo and music off completely whilst the pendulum and hands continue to run, or in the case of the automatic night off function, it will switch the cuckoo and music off from 8:00pm to 8:00am, to allow you a sound sleep before recommencing again the next morning.
Two Or Three Weights
Mechanical cuckoo clocks will have either two or three weights; two weights for the cuckoo only and three weights if your cuckoo clock plays music. One weight runs the clock movement and hands that show the time, whilst the second weight drives the cuckoo calling mechanism. The cuckoo sound is produced using bellows that push air through two whistles creating the 'cook' and 'coo' sounds respectively. If you choose to also have music with your mechanical cuckoo clock, the third weight drives a traditional mechanical music box movement with a pinned cylinder that plucks notes on a 'comb' to produce a melody. 1 day clocks with music play music on the hour and half hour, whilst 8 day clocks with music only play music on the hour.
VDS Certificate Of Authenticity
The Clock Shop is a member of the "VDS-Verein die Schwarzwalduhr" (= Black Forest clock association), and as such, all of our mechanical cuckoo clocks carry the Vds certificate of authenticity, which is provided for all clocks with a mechanical movement made in the Black Forest. In order to provide customers with this certificate of authenticity, the clock must be produced authentically and exclusively from the Black Forest, and must be working purely mechanically with all of its essential working parts to have also been produced in the Black Forest as well. Our large range of mechanical cuckoo clocks all guarantee the hallmarks of quality, precision and authenticity and as such, come with this certificate.
Clock Care
Other than general dusting there is little regular maintenance required. We recommend you use a soft bristle paint brush to carefully dust the carvings and case of your cuckoo clock. If looked after well and serviced by a reputable clockmaker every 7 - 10 years, you can expect your mechanical cuckoo clock to last for many years to come and serve as a generational keepsake.
Battery Cuckoo Clocks
If you are after something easier to manage and more hands off than a traditional mechanical cuckoo clock, why not consider one of our quartz battery operated cuckoo clocks instead. These timepieces have become popular in recent years since the 1990's. They are generally more affordable than the mechanical cuckoo clocks, and are powered by a modern quartz movement, which relies on alkaline batteries. Unlike mechanical cuckoo clocks, these never need to be wound and instead feature ornamental or decorative weights and chains that are purely for decorative reasons which do not serve any function to the running of the clock itself.
Sound Options
Battery cuckoo clocks are available with or without music; the models that come with music play through 12 traditional tunes that alternate each hour. In most clocks, the cuckoo will call every hour.
Similar to their mechanical counterpart, most battery cuckoo clocks also come with the option to manually switch off the sound, and they also feature a light sensor for automatic night shut off to guarantee you a sound sleep when it is dark, before recommencing again the next morning. The music can be switched off independent of the cuckoo call so it is possible to enjoy the cuckoo call and leave the music switched off.
Clock Care
Other than general dusting there is no maintenance required. To ensure longevity for your battery cuckoo clock, it is recommended to change the batteries once a year, using high quality non rechargeable alkaline batteries. For dusting we recommend you use a soft bristle paint brush to carefully dust the carvings and case of your cuckoo clock.
A Closer Look At The Similarities Between Mechanical and Battery Cuckoo Clocks
From the outside, mechanical and battery cuckoo clocks are hardly distinguishable from each other. Here is a closer look at the similarities between the two types
Style Options - Traditional (Chalet & Carved) or Modern
All cuckoo clocks are crafted in various styles, including traditional style (that includes chalet or hand carved); and also in a range of new and modern designs. Carved clocks often feature well known designs that have existed for hundreds of years, designs that include the common '5 Leaf & Bird', or '5 Leaf & Deer', as well as the varieties of hunting clocks including the 'Before The Hunt' and 'After the Hunt' designs with the animals 'hanging' after the hunt. Chalet style cuckoo clocks on the other hand are often featured in the shape of alpine houses. They usually feature carvings and finely crafted details that represent life in the mountain regions of Europe (mainly around Southern Germany, The Black Forest, Switzerland and Austria). Chalet style cuckoo clocks can range from simple arrangements of carved and painted figurines or animals to very detailed scenes with many moving parts (known as automaton).
As you explore the world of cuckoo clocks it will become apparent that there are a number of different styles tailored to suit a range of different budgets. Some of the lesser known but very traditional designs that can be featured include the railroad house, an ornate design of cuckoo clocks from the 1800's; along with our range of exquisite and unique master carved cuckoo clocks which feature deep and detailed carvings and ornate motifs adorning the body of the clock. These designs are created of the highest quality and are finished to the highest standards.
Automaton
Both mechanical and battery cuckoo clocks can feature automaton (moving parts), which are self operating mechanisms designed to automatically follow a predetermined sequence of operations: the cuckoo sound and the bird that appears when the door opens is one example of an automaton. Cuckoo clocks frequently have other automaton (moving parts and figurines) which move when the cuckoo calls or the music plays. Some of the common automata that feature on our range of battery operated cuckoo clocks include woodchoppers, beer drinkers, kissing couples, jumping animals, trains, mills and water wheels.
How To Know Which Type Of Cuckoo Clock Is Best For Me?
Mechanical Cuckoo Clocks
Mechanical cuckoo clocks are the best option for those who value mechanics, tradition and high quality craftsmanship. They are well suited to those who wish to stay active with the clock by winding the weights every day or each week. With the correct servicing every 7-10 years, these clocks can last for well over 100 years if taken care of properly. If you are looking for a timepiece that can be handed down over the generations, choose a high quality mechanical cuckoo clock.
Battery Cuckoo Clocks
On the other hand, a battery cuckoo clock is more convenient for both the older and younger population, as well as those who are simply too busy to remember to wind the clock every day or once a week. Because all that is required is to change the batteries every year. This option is also well suited for working people who are rarely at home, as well as those who are looking for a quality item without investing quite as much money.
In Summary
There is no doubt about it, cuckoo clocks are true works of art that add a touch of intrigue to any home with their precise timekeeping mechanisms. If you are looking to purchase an authentic German cuckoo clock in Australia then look no further than the Clock Shop, with our large selection of quality timepieces that add a playful German inspired atmosphere to any chosen space. All of our cuckoo clocks are made in Germany and are of the highest quality, from a variety of companies and carvers. You can be assured of an item of quality no matter whether you chose a battery or mechanical model, with all forming excellent gift ideas, and great conversation pieces.
Watch Our Supplementary Video To Help You Choose The Right Cuckoo Clock
---
Comments (5)
Wanting a Cuckoo Clock please

By:

Colleen Addison

on 2 September 2022

Hi i am wanting a cuckoo clock with moving train and cuckoo call for my young grandson. The battery one would be best as they are a very bisy fsmily. Need your address...are you in Brisbane Qld? Colleen
---
Cuckoo Clock

By:

Bill RIESS

on 20 September 2021

Just wondering if you have a catalogue and if so are you able to send me one. We are looking a buying a Cuckoo Clock.





Clock Shop Response
HI Bill, thank you for reaching out. We don't have a printed catalogue - the best reference is our website - https://www.clockshop.com.au/clocks/cuckoo/
---
Alexandra Heitmann

By:

Alexandra Heitmann

on 11 September 2021

I really enjoyed your video explaining all the different Cuckoo Clocks..-:from battery to mechanical...its was so interesting to know how the mechanical cuckoo clocks work ..it was explained thoroughly and easy to understand.. Thankyou so much for the informative video





Clock Shop Response
Thank you for your feedback Alexandra. If you follow our youtube channel we will be adding more videos in the coming weeks :)
---
Cuckcoo Clocks

By:

Paul van Haalen

on 2 September 2021

I am interested in a Chalet Cuckcoo Clock.8 day Mechanical with music dancers, Wheel turning and someguy having a beer.





Clock Shop Response
Hi Paul, thank you for reaching out. Have you tried using our wizard to narrow down your search? We have limited stock at the moment and a new shipment arriving in about 10 days with more options.
---
Cuckoo clocks

By:

Kay Anderson

on 2 September 2021

They are so beautiful. I truly hope I will be able to get one one day.Thank you for demo. I loved it Here's hoping one day Kay Anderson
---
Leave a comment