Where Words Fail, Music Speaks - Hans Christian Anderson
Author: Clock Shop Date Posted:17 June 2021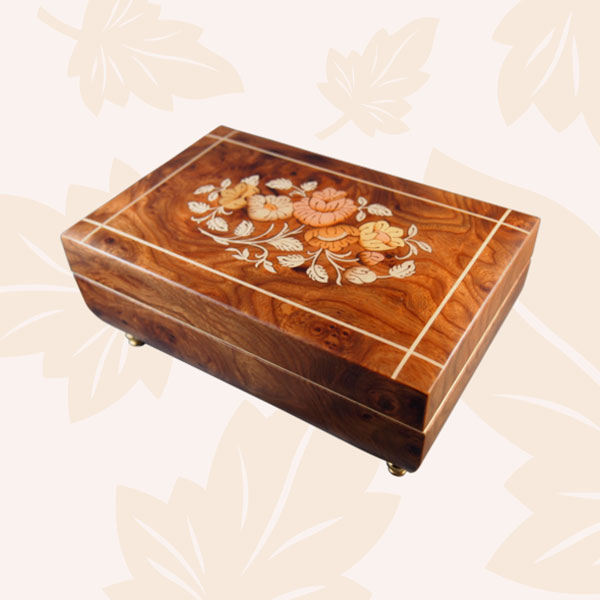 Music is the universal language that everyone speaks. It steps in when words fail; it makes life better when times are tough. No matter who we are, or where we are from, music has touched us all in some particular way, often all it takes is one song to bring back countless memories of a time long since passed.
One truly special musical item that has been loved by many generations is the classic music box, available in a variety of forms, including traditional music boxes, ballerina music boxes, novelty music boxes, barrel organs, and both hand wound and sankyo music movements.
A Brief History of Music Boxes
Since the late 18th century, music boxes have been loved as treasured items. The initial design of the early music boxes was a "music comb' created by swiss watchmaker Antoine Favre in 1796. The music comb was a flat steel comb which consisted of various lengths of steel teeth arranged in a line along the comb. These teeth were then plucked by a revolving cylinder of pins, which in turn produced different musical notes depending on the arrangement of the pins and the speed at which it was rotated. The deeper the teeth cut into the comb, the lower the pitch of the note when the pin was plucked. Around the same era in the late 1700's, a man named Johann Maelzel designed the first real music box, which was a mantle clock that played five alternating songs. One unique feature that was developed in Switzerland with the early music boxes in the late 1700's and the mid 1800's was the incorporation of a bellow or bellows, a modified wind instrument that resembled the sound of a singing bird. Original music boxes were tiny - small enough to fit inside a pocket watch, however over time as they became popular household items between the early 1800's and early 1900's, they became larger in size and eventually found a home inside larger rectangular wooden boxes. Some music boxes only had 9 teeth, whereas other designs could house hundreds of teeth - their designs varied greatly. From the early 1900's the piano and phonograph took over in popularity and ultimately overshadowed its smaller musical counterpart.
Similar to that of a music box, but in a much larger form was the barrel organ, a device which also relies on a crank shaft mechanism to play the music. Traditionally, large barrel organs were found mostly in churches across Europe, gaining popularity in the 20th century as street organs and fairground organs, as well as feature items at modern day German Christmas markets, barrel organs are otherwise known as roller organs or crank organs. Traditional barrel organs consist of bellows and one or more ranks of pipes housed in a decorative wooden case. Music is played from the organ by turning a barrel, with notes arranged inside by particular pins to produce truly unique and beautiful melodies that you will never tire of listening to. If you have ever listened to a barrel organ play a melody, you will have surely stopped in your tracks to listen to the beautiful melodies in awe.
More recently in history, just after the second world war, the company Sanyko started producing the music box mechanism with between 9 and 30 teeth at a low cost, thus opening up a new modern day market for music boxes. Today, music boxes are somewhat of both a collectors item and a novelty item, available in a range of different forms. There is no doubt about it that music is personal, it speaks to the heart. As music often evokes memories of a time, or a person from their past, many people gaze upon music boxes with joy and a fondness, as they are transported back to nostalgic memories from childhood. As music boxes are available in a range of classic tunes and melodies including Swan Lake, Sleeping Beauty, Waltz of the Flowers, Danube Waltz, Waltzing Matilda, and Emperor's Waltz, as well as some more modern and novelty tunes including Beethoven to the Beatles, Christmas tunes to Birthday songs, Children's carols and countless classic jingles that will be sure to make you sing, there is sure to be a melody that holds a special place in your heart.
Shop a Large Range of Music Boxes at Clock Shop
Here at Clock Shop we cater for a range of tastes and budgets, with our carefully selected range of music box products imported from Italy and Germany. With a multitude of hand wound movements and ballerina music boxes in a variety of tunes and designs all available both in store and online, these make the perfect small sized and affordable gift for that someone special. With a fun range that is suitable for both adults and children alike, our range of novelty music boxes at Clock Shop are sure to put a smile on your face. Browse through our range that includes Christmas snow globes, various Christmas and nativity scenes, round boxes, children's music boxes, miniature piano music boxes, ballerinas, fairies and russian dolls just to name a few. Perhaps you are instead looking to build your own music box, well look no further than Clock Shop, with a large selection of Sankyo music movements available in store and online. We carry parts for music box movements, assembly, turntables, winding keys and many more. Perhaps you are looking for a piece of vintage charm instead, then why not consider either one of our authentic and unique barrel organs, custom made to order, or a traditional music box that can also serve as a jewellery box.
You can rest assured that whatever the music is to your ears, we can help you find something special either in store or online at Clock Shop.
Listen to an Authentic German Barrel Organ!