Graupner
<iframe width="560" height="315" src="https://www.youtube.com/embed/-FfzY2DUIls" frameborder="0" allow="accelerometer; autoplay; encrypted-media; gyroscope; picture-in-picture" allowfullscreen></iframe>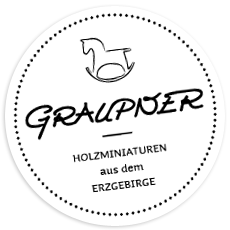 Design and old traditions in a unique union - Wooden Miniatures from Crottendorf in the Erzgebirge mountains
As a small craft workshop, it is our goal to offer a unique selection of wooden miniatures to discerning speciality stores wishing to give their customers the exceptional. Manufacturing the items in traditional Erzgebirge style, we bring together the old ways of the region lovingly nicknamed as "Christmas land" and contemporary design. The interplay of natural wood and bright, inviting colours is one of the key features of our miniatures. Colour design is carried out and new ideas are formed in close co-operation with local Erzgebirge designer Katrin Baumann. The manufacturers then make sure that the material gets the respect it deserves and that the finished products are flawless.
The figure makers from the Erzgebirge mountains – Traditional crafts with love and character
Miniatures have been a staple of the Erzgebirge toy makers since the mountains were mined for silver. We strive to combine the childlike form, language and lively colours especially in our seasonal decorations. Our collection comprises of a multitude of Christmas tree decorations, candle holders and pyramids that all use the traditional themes from the Erzgebirge.
Local woods are our material – A high class and natural product just perfect for our miniatures
The wood for the miniatures comes from German forests and is sawn in regional mills. Depending on the desired qualities and appearance we use conifers like spruce and pine or hardwood like great maple, basswood, birch or cottonwood. The wood is seasoned with care and selected for use based on the intended purpose.
Handcrafted figures made in our own workshop – Flying wood chips and a delicate arrangement for your perfect single piece
Following the traditional wood turning method of the Erzgebirge, we use special crafting techniques which facilitate the manufacturing of even the smallest pieces. Consisting of several small parts, the miniatures are then meticulously assembled and painted by hand using brushes, tweezers and a lot of patience and skill. Needless to say, all items in our collection are unique and individual.
Now colour comes into the game – Certainly an eyecatcher
The wide variety of colours on all toys and decorations can be called an old tradition from the Erzgebirge, even if our ancestors did not have all these shiny and colour fastened materials on hand yet. By using only paint that is certified for toy manufacturing we guarantee the paint doesn't include any toxins or chemical solvents. After drying, the paint forms a vibrant coat which doesn't fade in the sun or leave stains when touched.
*Profile copied from Graupner http://www.holzminiaturen.de/index.php/workshop.html